New York International Screenplay Awards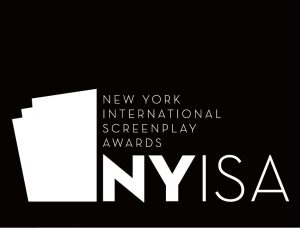 IndiePitch.tv Online marketplace to PITCH & SELL YOUR TV/FILM SCRIPT, CONCEPT, MOVIE PITCH, WEB-SERIES OR BOOK … Shows discovered have been Produced & Distributed Globally on Discovery Channel, Fox International, Lifetime TV, A&E, SyFy, Velocity & Others. Our web-based online service is currently used by over 300 leading production companies, networks, agencies and studios. Source at https://indiepitch.tv/
ISA The International Screenwriters' Association (ISA) is dedicated to empowering screenwriters of all levels. Our focus is to provide writers with the tools to elevate their craft, career and connections while establishing a solid relationship to the film community. The website is an all-encompassing resource hub where members can showcase their work and success and gain access to industry pros, writing gigs, classes, podcasts, industry pro tips, production resources and more.
Join the community at http://www.networkisa.org and on social: @NetworkISA https://www.networkisa.org/
NYISA New York International Screenplay Awards has been founded to bring together screenwriters (amateur or professional) from all around the world who aspire to connect with US producers and explore new markets. All through the years, NYISA has received submissions from more than twenty countries, and the winners have had the chance to promote themselves and their scripts to producers in the US. NYISAs jury members are mostly New York Producers, Script Doctors and Filmmakers; so from the first moment they submit, their scripts are being read by industry professionals. NYISA also provides a workshop "How To Write An Award-Winning Screenplay", Script Doctoring Services and Screenwriting Courses to everyone who wants to improve their writing skills or scripts. Source at http://nyisa.com/
Table Read My Screenplay (TRMS) We're bringing you to Hollywood 2023. Have your script brought to life in a professionally directed and acted table read in front of a live audience in Hollywood, CA! The Grand Prize Winner will also receive $1,500 cash, plus we'll get you to LA and set you up with accommodations in Hollywood. The winner will then be considered for the esteemed ISA Development Slate and meet with Executives from both the ISA and Legion M. 
80+ ISA Development Slate writers have had their projects optioned, sold or produced! Source at https://tablereadmyscreenplay.com/
Emerging Screenwriters Genre Screenplay Competition – We're searching for emerging screenwriters with exceptional screenplays in six genre categories. The winner of each genre category will receive $2500 cash. Of the six scripts selected, one of you will go on to win the Grand Prize and receive an additional $7500. You will also be accepted onto the ISA Development Slate, where the Career Development team will work with you for a minimum of one year to get you and your script in front of top producers, literary reps and other industry executives from companies like Lakeshore Entertainment, Gidden Media, ICM, and others. Source at https://www.networkisa.org/contest/view/emerging-screenwriters-screenplay-competition