"Make an Informed and Educated Choice – Compare The Differences"
Too often, writers select a protection provider out of habit, not out of educated or informed choice. CreatorsVault.com has always emphasized "Protect Before You Expose Your Creative Projects in The Marketplace."  It is important to note that Creators Vault, WGA Writers Guild, U.S. Copyright Office and other valid agency registrations can be used as evidence in a legal proceeding (Court, Arbitration Panel, etc.), but it's important to compare the differences. The information that follows is provided to assist your choice process by comparison of basic elements and other important factors.
Basic Elements –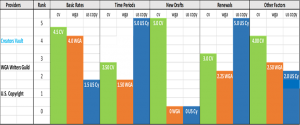 Other Important Factors –
Intermediaries – U.S. Copyright Office has some agencies that provide registrations for clients for an added fee. A few examples are; LegalZoom ($114 + $35 filing fee = $149) and Screencraft ($99 + $35 filing = $134). These are not inexpensive, and via an attorney is even more costly.
New Drafts– Creators Vault offers New Draft availability for updates/revisions anytime during the term period of the original registration at a discount rate. WGA and U.S. Copyright Office do not have new draft provisions because they consider the original registration as final.
Renewals– Creators Vault provides Renewal Extensions for a discounted rate for an added 4 year period. Email notifications are sent within 30 days of expiration date, which gives clients the opportunity to renew between the notice date up until 30 days after expiration. WGA only allows renewal at the full rate according to their time frame policy. U.S. Copyright does not offer renewals and are considered Not Applicable.
Reduced Basic Rates– Creators Vault offers very competitive rates. WGA provides a reduced rate of $10 for Member and Associate Members but this involves enrolling at a High Rate (Members in the Guild for initial fees of $2,500 and $300 (Associate Members $100 for 3 months). These fees make WGA suitable for seasoned established writers, but

not newer writers

.  WGA does not offer New Drafts or Renewal at a discount. U.S. Copyright offers no discounts, no New Drafts or Renewals at a discount'
Time to Confirm Registrations– Since we assume use of the Online Registration process, the following apply: Creators Vault registrations being digital, the confirmations are almost immediate and placed into our secure database archive (CV Certificates and Account Logins are sent via email). WGA registrations are mostly digital and confirmations are almost immediate. U.S. Copyright digital registration confirmation can be provided within 24 hours if using an intermediary. Actual confirmation takes about 2 weeks.
Release of Registration Files– Creators Vault does not release registration file details, since we indicate to client to retain an original copy. The purpose is to maintain maximum security for their protection. If extenuating circumstances exist, we will consider and evaluate. Generally, we will only Release Registration detail if a legal process is actuated and requires written request from the client's legal representative that can be validated, or by Court Order, Arbitration Panel. Upon validation, the Registration file will be provided in digital form within 7 days of validated request. WGA will release Registration files with approximately a 2 week notice for extenuating reasons; or via legal Guild Action, Court Order or other legal process. 

U.

S. Copyright Office accommodates request for Certificates of Registration on either a regular or expedited basis. Timeframes are variable, and fees are cumulative (expedited is very costly).
All of the above elements and added factors provide the majority of information required to make an informed and intelligent choice. Creators Vault is confident our services provide Better Value with More Options overall, and provides the Best Choice.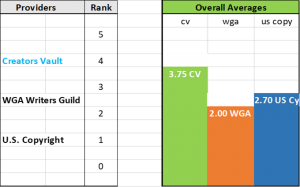 Creators Vault registrations are accomplished at https://www.creatorsvault.com/registrations/ and existing clients simply Login to their personal MyArchive to process New Projects, New Drafts or Renewals. We have provided Copyright Protection needs since 2006, and it only costs about 1 cent per day.
CreatorsVault.com
Intellectual Property Registry