CreatorsVault.com stresses the importance of securing Copyright Protection for screenwriting and other creative projects before exposing them in the marketplace. We provide an online IP Registry for Copyright Protection at https://www.creatorsvault.com/registrations/ that includes Better Value & More Options for only about 1 cent per day.
The primary Copyright providers of CreatorsVault.com, US Copyright, and WGA can all be used in legal disputes over IP infringement. However, there are distinct comparison differences that are outlined on the following summary chart;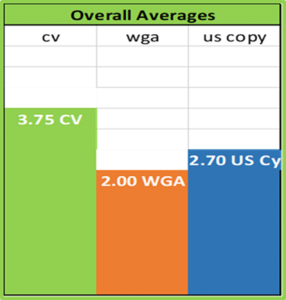 Additionally, a more detailed comparison can be referenced on our Copyright Comparisons page at https://www.creatorsvault.com/copyright-comparisons/
We offer Competitive Rates, a selection of Term Options, plus additional availability for New Drafts and Renewal Extensions at discounted rates. These are why CreatorsVault.com is a Better Value overall.